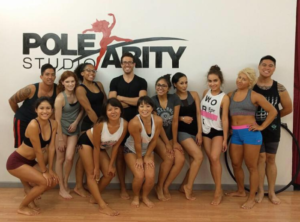 Intro to pole (Level 1)
Never tried pole before? Come get a taste of all the fun at PoleArity fitness! This class focus's on you getting comfortable using and dancing on the pole. The instructor will have you trying various spins, holds and grips on the pole. The last 15 minutes will consist of a workout designed to strengthen your core and upper body. Please wear athletic shorts to this class and a sports bra, as you will need your skin to pole dance. And please refrain from using any oils or lotions prior to class, this will help you grip the pole more easily! Recommended to take a few times before move to beginner pole classes.
Beginner Pole (Level 2)
If you have attended our intro to pole and comfortable with all moves you learned or if you are familiar with basic pole grips, spins and a little bit of climbing, this class is for you! In this class, students learn the fundamentals of pole dancing including beginner spins, climbs, and also prepare for inversions. You will start to build upper body strength and flexibility as you learn to move gracefully on and around the pole.
Recommended skills: basic pole grips, basic spins (fireman and attitude) and climbing.
Intermediate Pole (Level 3)
For students returning from a pole break or students ready to advance from basics, the intermediate foundations class will focus on building combos and endurance.
Recommended skills: Invert (inside and outside leg hang), crucifix, superman, ballerina, and basic pole spins and skills.
Advanced Pole (Level 4)
Students looking to take their pole dancing to a high level are welcome to attend this class. Focusing on building long combos, aerial lifts, and advanced poses and postures, this class will challenge and strengthen the experienced poler.
Recommended skills: Intermediate experience, handspring, and shoulder mount.
---
Basics Pole and Strength Conditioning
Great for all levels students. If you want to progress with your strength and go upside down sooner, this is the class for you! This is a fun, workout style class using the pole. We will be using circuits and reps to get a full body workout with a focus on core and upper body. As always we highly recommend taking our intro class at least once before coming into this class. 
Intro to Climbing and Inverting
Great for level 2-4 students. Are you ready to go upside down on the pole? This class will not only help you learn your basic inverts and leg hangs, but you will learn new ways to climb and make shapes on the pole. We ask that you have your climb and basic spins down before attending this class, and ready to begin inverting.
---
Sexy Pole Flow
This class is dedicated to the art of sensual and exotic movement, learning to be comfortable with your body, and expressing yourself through dance. Heels or socks are encouraged, and because a lot of floor work is involved, knee pads or thigh high socks are a good idea as well but not required. This class will cover some basics of pole but is focused on fluidity of movement and not a beginner class. As always we highly recommend taking our intro class at least a few times before coming into this class.
Exotic Pole Dance
This class combines 70% floor work and low flow of plastic strip and 30% acrobatics pole elements. You will learn a choreographed dance routine merging essential elements on the ground and pole, sexy transitions on the floor, crawling, elbow stands, slink, slide, body wave, and hip rolls. Learn ways to display your skills in the best way possible. Class is guaranteed to be sexy, submissive and dominant all at the same time.
All levels are welcome in this class, and variations can be given for students of every skill level.
Recommend to bring leg warmers, over the knee socks, and/or knee pads for your comfort! Heels welcome but not required!
---
Open Pole/Stretch
Open pole and practice time is an opportunity to practice what you have learned in class. An instructor will be present and students also have an option of a guided stretch.